We are FutureTech, embarked the journey in 2013 as Apple Tier 1 partner in Pakistan, We are Apple Authorised Reseller as well as Apple Authorised Service Provider, providing unmatched experience in retail and have state of art facilities in Authorised Service Centres Countrywide. At FutureTech Our mission is to cater the emerging needs of the growing technological market and provide the Apple genuine products, which are user friendly and creates excellence. Our customers are our first and foremost priority, considering the same we are on the go to deliver quality service, long term relations and win the trust of satisfied and loyal customers. Markets are flooded with the fake products , in-genuine is sold in the name of genuine, We at Futuretech assure you that we provide the Apple Genuine Products as we are the Apple Authorised Reseller and Apple Authorised Service Provider, exhibiting and providing best customer experience with commitment. Every product is available with the genuine warranty at FutureTech.
Enviroment at FutureTech
We are providing a unique customer experience, we picked the best locations in country's top Malls offering our customers a wide range of Apple products , that includes iPhone, iPads, iMac's, Mac Book's, iPods and others , setting unique and superior tactics and business strategy by our highly trained (APP) Apple Product Professionals at Retail Stores and (ACMT) Apple Authorised Certified Macintosh Technicians at our Service Centres. We have our Apple Reseller Stores located in 4 (four) major cities with 5 (Five) Apple Authorised Retail Stores and 3 (Three) Apple Authroised Service Centres having high aims and strategies for business expansions. Our stores have not just the genuine Apple products but also the Genuine Apple Accessories considering the requirements and needs of our Apple customers.

Our Strength
TEAM
Our thirst for strive is never ending as we believe in to go abreast to the international technological changes by introducing superior and quality products with all genuineness , our products are Apple Authorised. Our Sales Ambassadors are eager to provide you all the concerned product information after accessing and realizing your needs.
Not just this we provide excellent support of after sales service and repairs for our valued customers. A bonafide, proactive and dedicated team is catering diligently the trouble shooting and malfunctioning of your Apple products, rectifying them as per Apple standards with minimum turn around time.
We provide trainings to our employees, this futher enhances their product knowledge, inter-personal skills and above all providing career development that leads to a bright future at Futuretech.
We demonstrate our commitment to employees by promoting and rewarding on performance and by creating a work environment that reflects our value.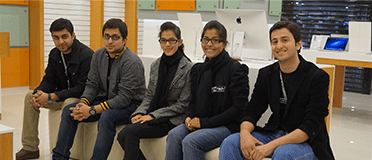 NETWORK
We are the biggest and growing Apple Reseller Network in country, We are in the phase of expansion and planning the reach of Apple products across the nation, currently we are existing in four major cities of Pakistan. They are in Karachi, Lahore, Islamabad and Faisalabad and have five Apple Reseller Stores and three Service Centres catering the needs of customers.
Taking the reachability to the next level we have plans to increase the number of stores to ten across Pakistan.