iMac 21 iMac
iMac 21
Availability: In Stock
---
Description
The new iMac highlights a ultrathin holding nothing back one configuration, lovely widescreen show, the most recent 21.5-inch iMac. Tags: AppleAir, Macstore, appleservice, applereseller, appleservicecenter, appleauthorisedreseller
Highlights
Graphics : Intel HD Graphics 5000, Intel Iris Pro Graphics, NVIDIA GeForce GT 750M graphics processor with 1GB of GDDR5 memory
Memory : 8GB (two 4GB) of 1600MHz DDR3 memory, 8GB of 1600MHz LPDDR3 onboard memory
Display-iMac : 21.5-inch (diagonal) LED-backlit display with IPS technology; 1920‑by‑1080 resolution with support for millions of colors, Retina 4K display 21.5-inch (diagonal) Retina 4K display with IPS technology; 4096-by-2304 resolution with support for millions of colors
Processor : 1.4GHz dual-core Intel Core i5 processor (Turbo Boost up to 2.7GHz) with 3MB shared L3 cache, 2.7GHz quad-core Intel Core i5 processor (Turbo Boost up to 3.2GHz) with 4MB L3 cache, 2.9GHz quad-core Intel Core i5 processor (Turbo Boost up to 3.6GHz) with 6MB L3 cache
Storage : 1TB (5400-rpm), 500GB (5400-rpm)
Product Features
iMac
Retina. Now in colossal and ginormous.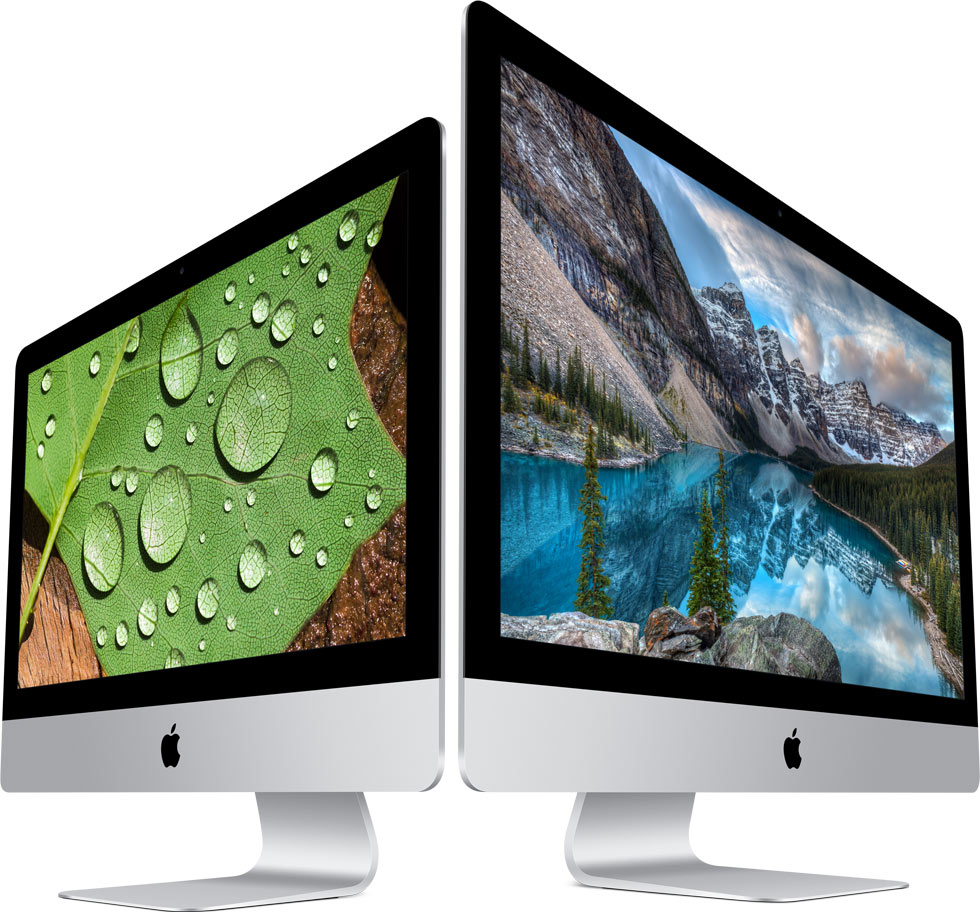 More than just a display, it's a vision.
Never abandon a most loved tune. Alongside up to 15 hours of battery life,
1 iPod mix holds many sona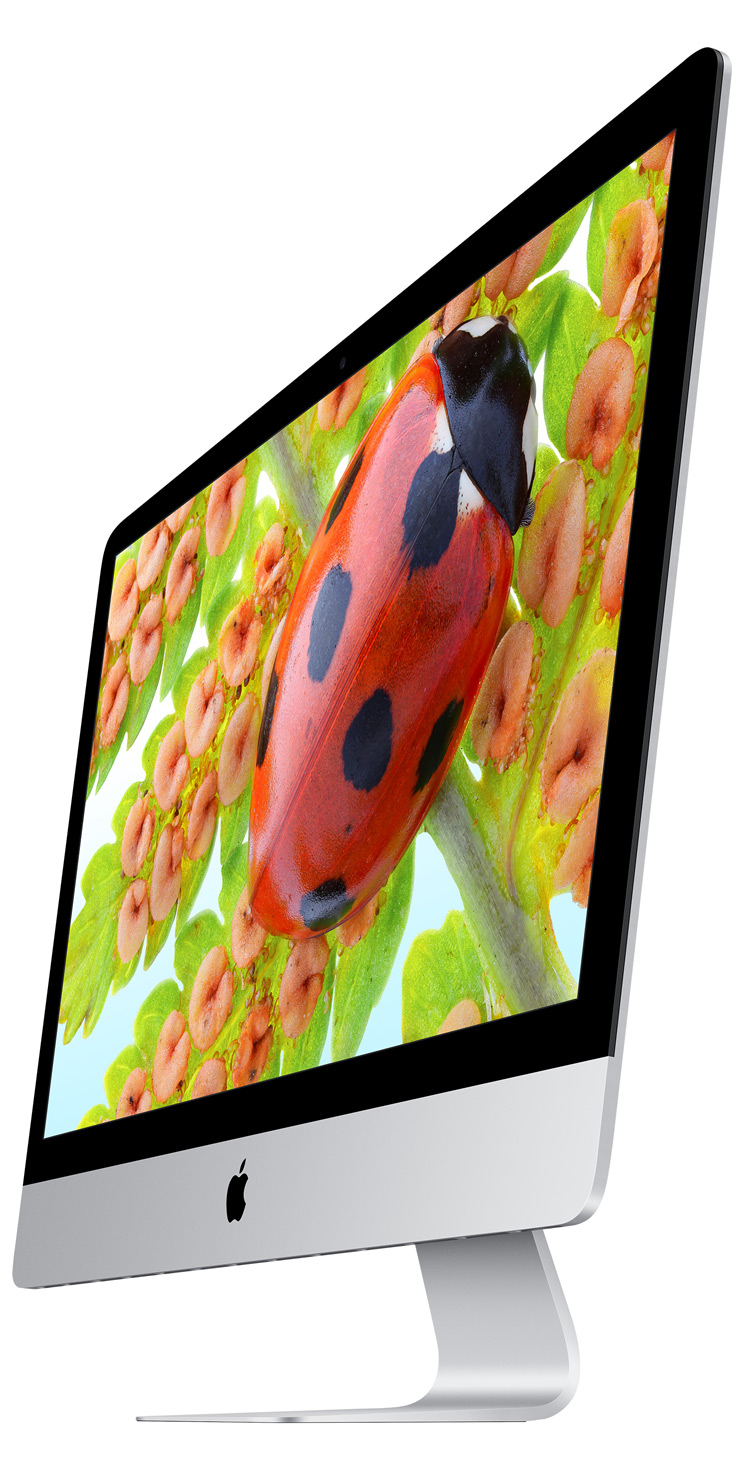 Innovation from
edge to cutting edge.
A mind blowing measure of building was required to convey the Retina presentation to the iMac family. Witness an outline that is only 5 mm at its edge — yet completely fit for making everything around you blur into the separation. This guarantees nothing gets in the middle of you and your most loved substance. Consistent and excellent, iMac with Retina presentation is a rich expansion to your workspace, speaking to a profundity of innovation at the stature of outline.

Storage that's lightning fast.
And whip smart.
Capacity is about space. But at the same time it's about rate and execution. A Fusion Drive gives you the best of both universes. This imaginative stockpiling innovation brilliantly joins expedient blaze stockpiling with a high-limit hard drive. Your habitually utilized applications, reports, and photographs keep focused speedier blaze stockpiling, while occasionally utilized things move to the hard drive. What's more, as the framework figures out how you function, you'll encounter speedier application propelling and snappier document access. Combination Drive can be designed with up to 3TB of storage.1 But for the individuals who need a definitive execution, there's an all-blaze choice that is presently up to 2.5 times speedier than the past form.

Redesigned. Rechargeable. Remarkable.
The all-new Magic Keyboard, Magic Mouse 2, and Magic Trackpad 2 have been updated to make each communication feel stunning. From a built‑in rechargeable battery to another lower profile, they've been improved to convey more solace and usefulness than any other time in recent memory. Combined with iMac, they work enchantment together.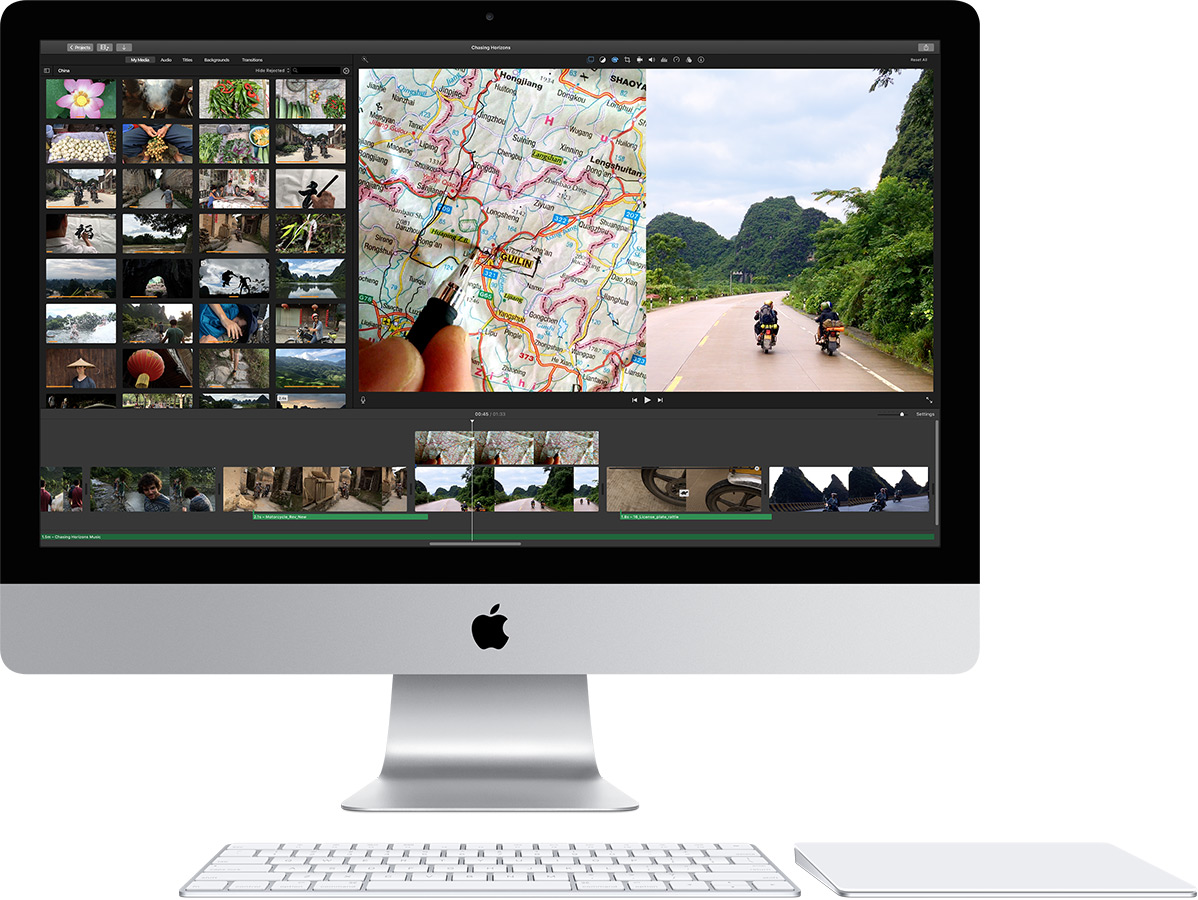 Fast connections
for high performance.
iMac is amazingly thin. Be that as it may, it's jam-pressed with cutting edge innovation. Two Thunderbolt 2 ports come standard on all iMac models and convey bursting quick information exchange for outer drives and cameras. Four USB 3 ports give you a lot of alternatives for interfacing peripherals, including your printer, video gadgets, and that's just the beginning. What's more, with ultrafast three-stream Wi‑Fi and Bluetooth 4.0 remote innovation, you're in a flash associated with all your most loved substance.

Product Specifications
Audio

Audio :

Stereo speakers, Dual microphones, 3.5mm headphone jack, Headphone/optical digital audio output (minijack), Support for Apple iPhone headset with microphone

Connections and Expansion

Connections and Expansion :

Headphone, SDXC card slot, Four USB 3 ports (compatible with USB 2), Two Thunderbolt ports, Mini DisplayPort output, Support for DVI, VGA, and dual-link DVI (adapters sold separately), 10/100/1000BASE-T Gigabit Ethernet (RJ-45 connector), Kensington lock slot

Electrical and Operating Requirements

Frequency :

50Hz to 60Hz, single phase

Line voltage :

100-240V AC

Operating altitude :

tested up to 10,000 feet

Operating temperature :

50° to 95° F (10° to 35° C)

Relative humidity :

5% to 95% noncondensing

Graphics

Graphics :

Intel HD Graphics 5000, Intel Iris Pro Graphics, NVIDIA GeForce GT 750M graphics processor with 1GB of GDDR5 memory

Input

Apple Wireless Keyboard :

Apple Wireless Keyboard Full-size keyboard with 78 (U.S.) or 79 (ISO) keys, including 12 function keys and 4 arrow keys (inverted "T" arrangement)

Magic Mouse :

Smooth, seamless Multi‑Touch surface with support for simple gestures (scrolling and swiping). Click and double‑click anywhere. Ambidextrous construction accommodates left- and right‑handed users.

Magic Trackpad :

Glass Multi-Touch trackpad for precise cursor control; supports inertial scrolling, pinch and expand, swipe, three‑finger swipe, four‑finger swipe, tap, double‑tap, rotate, screen zoom, scroll, click and drag, click drag and lock, secondary click A and B.

MEMORY

Memory :

8GB (two 4GB) of 1600MHz DDR3 memory, 8GB of 1600MHz LPDDR3 onboard memory

Operating System

Operating System :

OS X El Capitan

Other

Display-iMac :

21.5-inch (diagonal) LED-backlit display with IPS technology; 1920‑by‑1080 resolution with support for millions of colors, Retina 4K display 21.5-inch (diagonal) Retina 4K display with IPS technology; 4096-by-2304 resolution with support for millions of colors

Processor

Processor :

1.4GHz dual-core Intel Core i5 processor (Turbo Boost up to 2.7GHz) with 3MB shared L3 cache, 2.7GHz quad-core Intel Core i5 processor (Turbo Boost up to 3.2GHz) with 4MB L3 cache, 2.9GHz quad-core Intel Core i5 processor (Turbo Boost up to 3.6GHz) with 6MB L3 cache

Size and Weight

Height :

17.7 inches (45.0 cm)

Stand depth :

6.9 inches (17.5 cm)

Weight :

12.5 pounds (5.68 kg)

Width :

20.8 inches (52.8 cm)

Storage

Storage :

1TB (5400-rpm), 500GB (5400-rpm)

Video Support and Camera

Video Support and Camera :

FaceTime HD camera, Simultaneously supports full native resolution on the built‑in display and up to a 30-inch display (2560 by 1600 pixels) on an external display, Support for extended desktop and video mirroring modes, Support for Target Display Mode via the Thunderbolt port using a Thunderbolt to Thunderbolt cable (sold separately)

Wireless

Bluetooth :

Bluetooth 4.0 wireless technology

Wi-Fi :

802.11ac Wi-Fi wireless networking; IEEE 802.11a/b/g/n compatible
Product Reviews





0 Reviews
Write a review