Mac Pro Mac Pro
Mac Pro
Availability: In Stock
---
Description
Presenting the new Mac Pro. Worked for imagination on an epic scale. Some of the time to step forward, you need to totally alter course. Tags: AppleAir, Macstore, appleservice, applereseller, appleservicecenter, appleauthorisedreseller
Highlights
Graphics : Dual AMD FirePro D300 graphics processors with 2GB of GDDR5 VRAM each, Dual AMD FirePro D500 graphics processors with 3GB of GDDR5 VRAM each
Memory : 12GB (three 4GB) of 1866MHz DDR3 ECC memory, 16GB (four 4GB) of 1866MHz DDR3 ECC memory
Processor : 3.5GHz 6-Core Intel Xeon E5 with 12MB L3 cache and Turbo Boost up to 3.9GHz, 3.7GHz Quad-Core Intel Xeon E5 with 10MB L3 cache and Turbo Boost up to 3.9GHz
Storage : 256GB PCIe-based flash storage
Product Features
Mac Pro
The New Power Structure
Designed around workstation illustrations with double GPUs, PCIe-based glimmer stockpiling, superior Thunderbolt 2, new-era Xeon processors, ultrafast memory, and backing for 4K video, the new Mac Pro conveys best in class execution no matter how you look at it.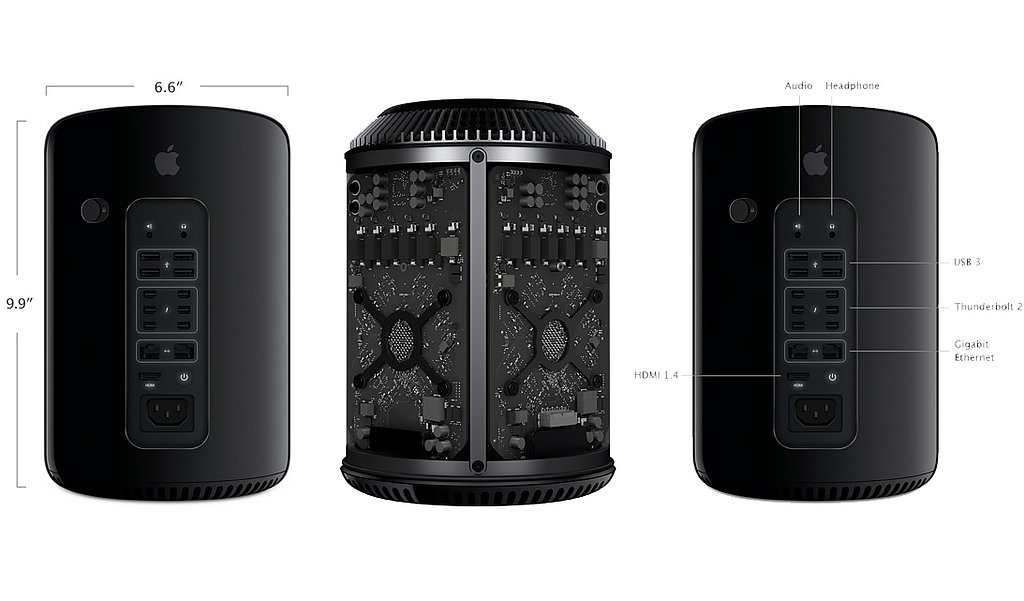 Processor
The new Mac Pro is muscle completely, beginning with the new-era Intel Xeon E5, accessible with 4, 6, 8, or 12 centers of handling force on a solitary pass on. Also, with up to 30MB of L3 reserve, 40GB/s of PCI Express gen 3 transfer speed, and 256-piece wide gliding point guidelines, you'll never be at a misfortune for pace.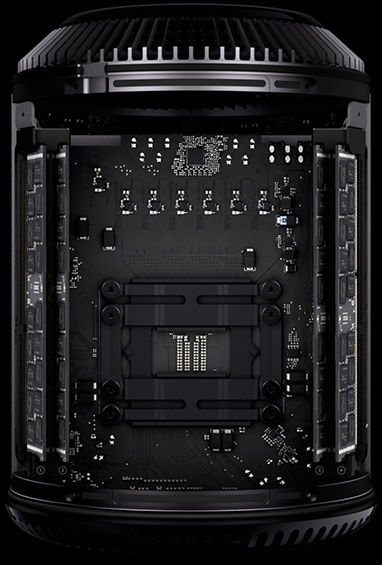 Memory
Each segment in the new Mac Pro is upgraded for execution. That incorporates a four-channel DDR3 memory controller running at 1866MHz. It bolsters up to 64GB of memory and conveys up to 60GB/s of memory data transfer capacity, which implies you can fly through even the most register concentrated errands right away. What's more, since it's ECC memory, your render work, video fare, or reenactment won't be ceased by transient memory mistakes.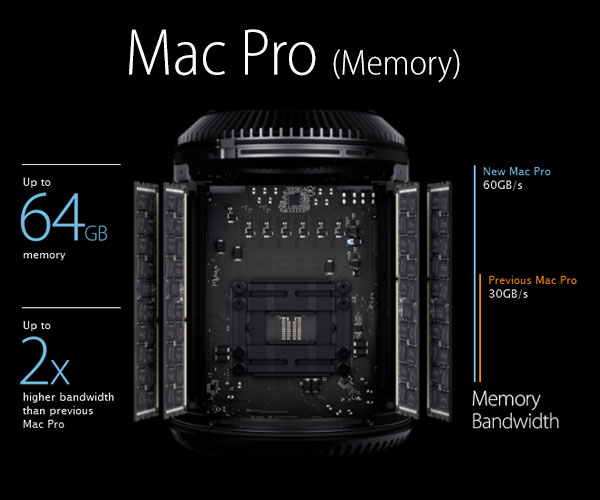 Graphics
Customarily, genius PCs have depended principally on the CPU for their figuring power. However, as GPU execution has drastically expanded, programming engineers have started to influence that power in their applications. With the new Mac Pro, we looked ahead and designed a much all the more intense GPU engineering. Not just does it highlight a best in class AMD FirePro workstation-class GPU — it highlights two of them. Also, each is accessible with 2GB, 3GB, or 6GB of committed VRAM and up to 2048 stream processors. With all that power, you'll have the capacity to do things like flawlessly alter full-determination 4K video while at the same time rendering impacts out of sight — and still have enough energy to interface up to three high-determination 4K shows.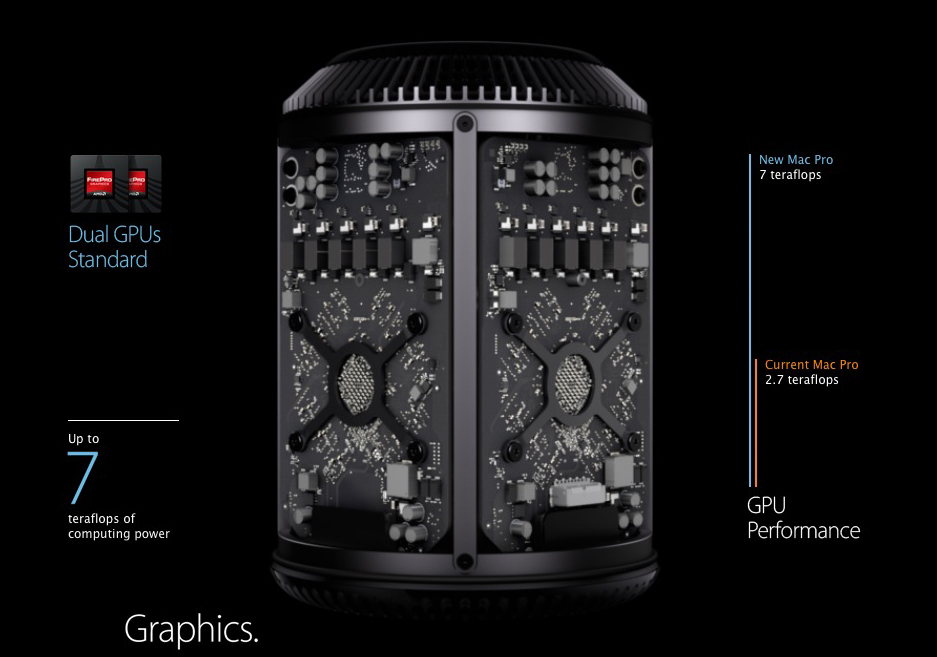 Storage
There's glimmer stockpiling, and after that there's cutting edge PCIe-based blaze stockpiling. We're talking stockpiling that is up to 2.4 times speedier than the quickest SATA-based strong state drive and up to 10 times quicker than a 7200-rpm SATA hard drive. Most blaze stockpiling frameworks interface by means of SATA transports intended for slower turning hard drives. Yet, we planned the new Mac Pro around new PCIe-based glimmer controller innovation to convey the speediest strong state drives accessible standard in a desktop PC. So you'll have up to 1TB of capacity that will give you a chance to boot up, dispatch applications, and even open gigantic documents in, well, a glimmer.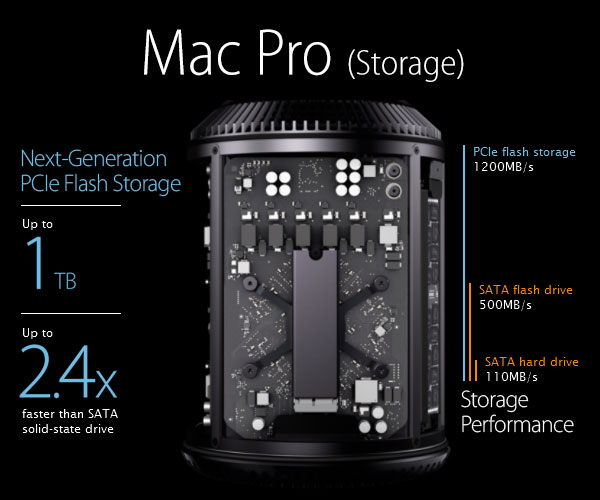 A unified thermal core
The new Mac Pro packs a remarkable measure of force in an inconceivable measure of space. A major reason we could do that is the quick bound together warm center. As opposed to utilizing numerous warmth sinks and fans to cool the processor and illustrations cards, we assembled everything around a solitary bit of expelled aluminum intended to expand wind stream and in addition warm limit. It works by directing warmth far from the CPU and GPUs and disseminating that warmth consistently over the center. That way, in the event that one processor isn't acting as hard as the others, the additional warm limit can be shared effectively among them. No PC has been fabricated along these lines some time recently. But then it bodes well, it's currently difficult to envision building one some other way.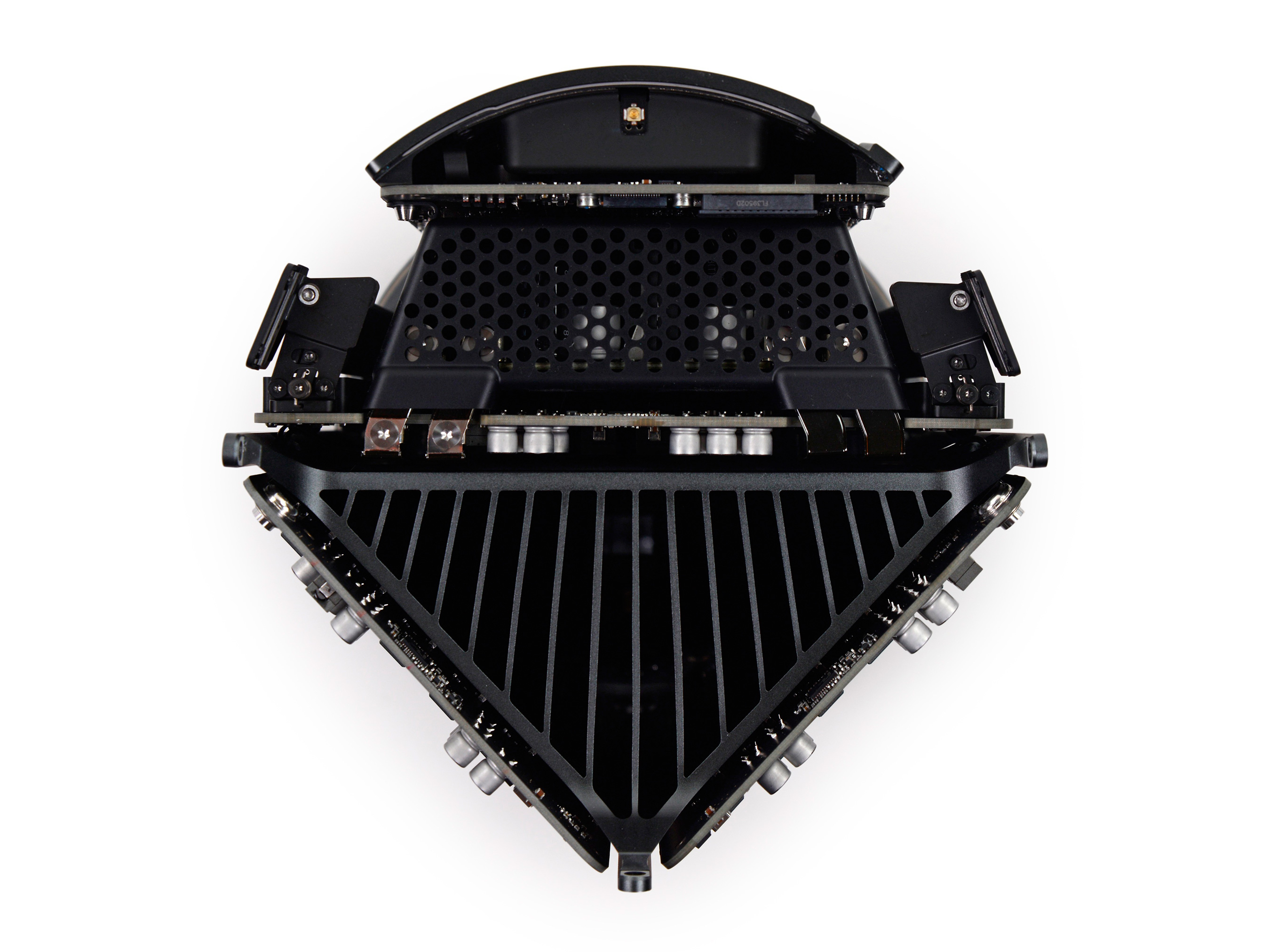 A Single breakthrough fan.
An unfathomable measure of advancement went into outlining a fan framework equipped for cooling such an elite gadget. Rather than including additional fans, we designed a solitary, bigger fan that pulls air upward through a base admission. As air goes vertically through the focal point of the gadget, it ingests warmth and completes it the top. It's basic and rich — furthermore incredibly tranquil. To accomplish that, we needed to consider everything about: number of cutting edges, the extent of the sharp edges, the dispersing of the edges, and even the state of the edges. By minimizing air resistance all through the framework, we could outline a fan with in reverse bended impeller cutting edges that keeps running at less cycles every moment, draws air all the more productively as it twists, and makes extensively less commotion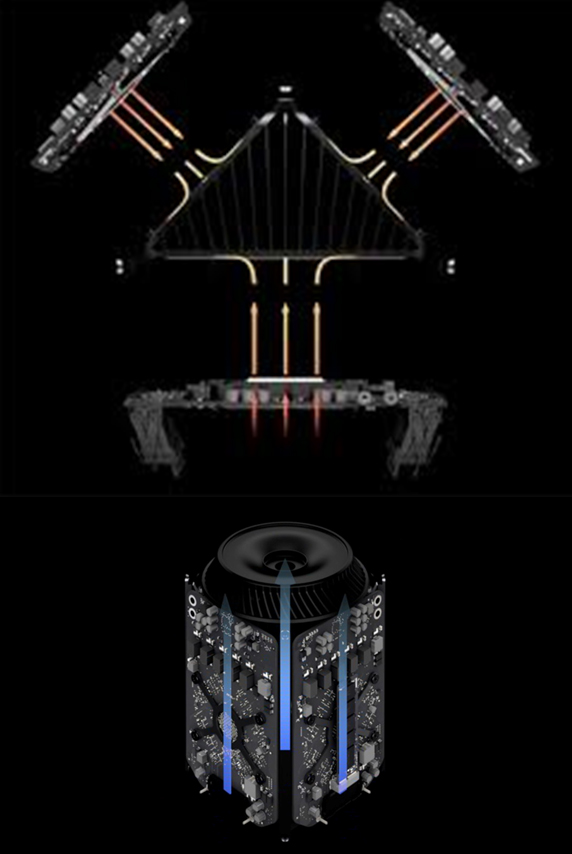 Expansion, vastly expanded.
In making a genius PC for the future, we needed to give a colossal measure of extension — without being constrained to the space inside the nook. Planned with implicit Thunderbolt 2, USB 3, Gigabit Ethernet, and HDMI 1.4 ports, Mac Pro sets another standard in adaptable, elite extension. It's our most expandable Mac yet. Furthermore, it has all that you have to construct a workstation totally redid to what you need and how you function.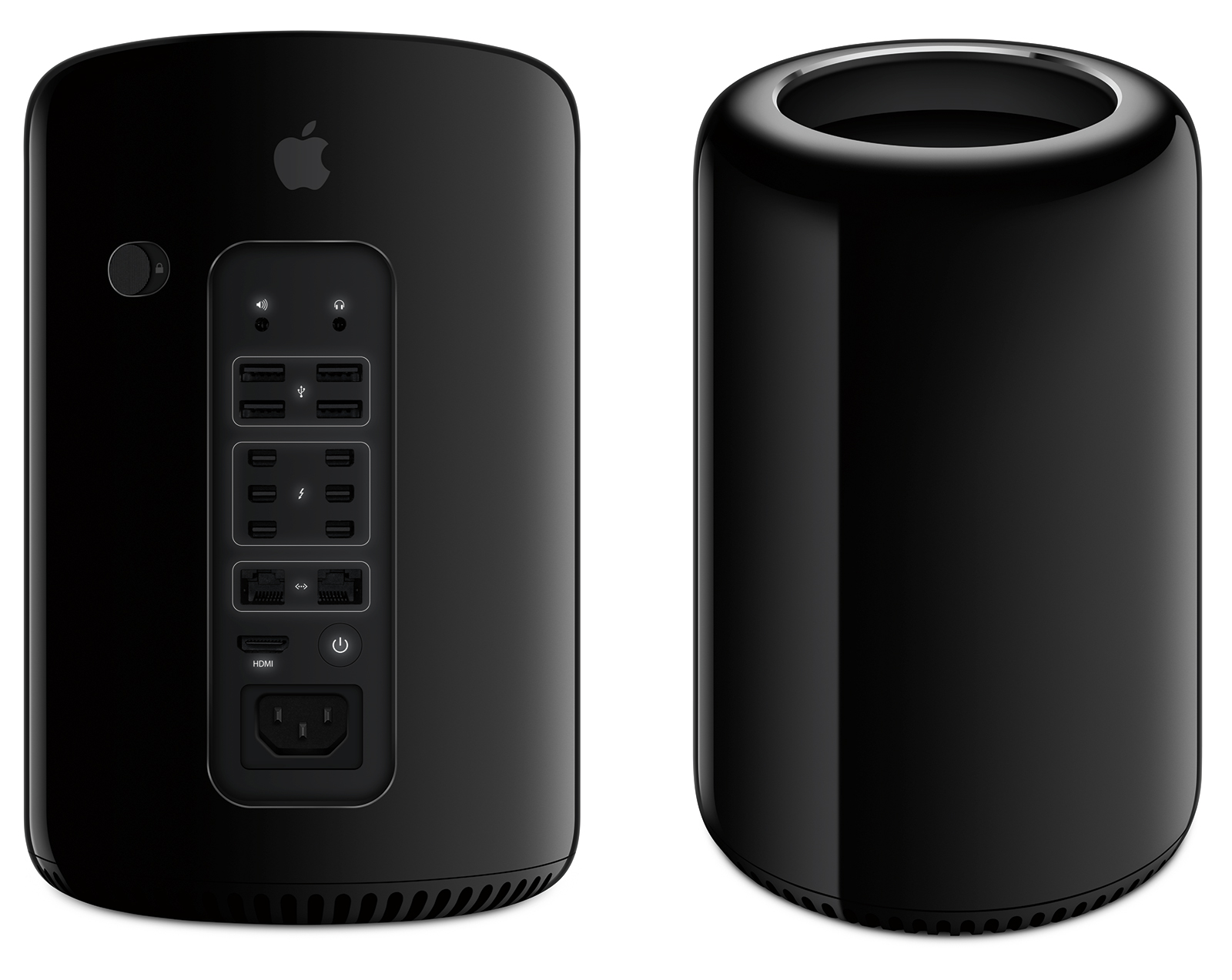 Product Specifications
Audio

Audio :

Combined optical digital audio output/analog line out minijack, 3.5 mm headphone jack with headset support, HDMI port supports multichannel audio output, Built-in speaker

Connections and Expansion

Connections and Expansion :

4 USB 3.0, 6 Thunderbolt, 2 Dual Gigabit Ethernet, HDMI 1.4 Ultra HD

Dimensions

Diameter-MacPro :

66in

Height-MacPro :

99in

Weight-MacPro :

11lb

Graphics

Graphics :

Dual AMD FirePro D300 graphics processors with 2GB of GDDR5 VRAM each, Dual AMD FirePro D500 graphics processors with 3GB of GDDR5 VRAM each

MEMORY

Memory :

12GB (three 4GB) of 1866MHz DDR3 ECC memory, 16GB (four 4GB) of 1866MHz DDR3 ECC memory

Operating System

Operating System :

OS X El Capitan

Other

Display Support :

Six Thunderbolt displays, Three 4K displays

Processor

Processor :

3.5GHz 6-Core Intel Xeon E5 with 12MB L3 cache and Turbo Boost up to 3.9GHz, 3.7GHz Quad-Core Intel Xeon E5 with 10MB L3 cache and Turbo Boost up to 3.9GHz

Storage

Storage :

256GB PCIe-based flash storage

Wireless

Bluetooth :

Bluetooth 4.0 wireless technology

Wi-Fi :

802.11ac Wi-Fi wireless networking;3 IEEE 802.11a/b/g/n compatible
Product Reviews





0 Reviews
Write a review