MacBook Pro MacBook
MacBook Pro
Availability: In Stock
---
Description
With the most recent era Intel processors, every new realistic, and speedier glimmer stockpiling, MacBook Pro advances further in force and execution. Tags: AppleAir, Macstore, appleservice, applereseller, appleservicecenter, appleauthorisedreseller
Highlights
Battery and Power : Up to 10 hours wireless web, Up to 12 hours iTunes movie playback, Up to 30 days of standby time, Built-in 74.9-watt-hour lithium-polymer battery, 60W MagSafe 2 Power Adapter with cable management system; MagSafe 2 power port, Up to 9 hours wireless web, Up to 9 hours iTunes movie playback, Up to 30 days of standby time, Built-in 99.5-watt-hour lithium-polymer battery, 85W MagSafe 2 Power Adapter with cable management system; MagSafe 2 power port
Display-MBP : Retina display: 13.3-inch (diagonal) LED-backlit display with IPS technology; 2560-by-1600 resolution at 227 pixels per inch with support for millions of colors, Retina display: 15.4-inch (diagonal) LED-backlit display with IPS technology; 2880-by-1800 resolution at 220 pixels per inch with support for millions of colors
Graphics and Video Support-MBP : Intel Iris Graphics 6100, Intel Iris Pro Graphics, Intel Iris Pro Graphics AMD Radeon R9 M370X with 2GB of GDDR5 memory and automatic graphics switching
Memory-MBP : 16GB of 1600MHz DDR3L onboard memory, 8GB of 1866MHz LPDDR3 onboard memory
Processor : 2.2GHz quad-core Intel Core i7 processor (Turbo Boost up to 3.4GHz) with 6MB shared L3 cache, 2.5GHz 2.5GHz quad-core Intel Core i7 processor (Turbo Boost up to 3.7GHz) with 6MB shared L3 cache, 2.7GHz dual-core Intel Core i5 processor (Turbo Boost up to 3.1GHz) with 3MB shared L3 cache, 2.9GHz dual-core Intel Core i5 processor (Turbo Boost up to 3.3GHz) with 3MB shared L3 cache
Storage : 128GB PCIe-based flash storage, 256GB PCIe-based flash storage, 512GB PCIe-based flash storage
Product Features
Macbook Pro

Stunning Retina Display.
The 15‑inch model has more than 5 million pixels, and the 13‑inch model has more than 4 million. So you can modify your photographs or alter a home film in HD and experience a surprising level of clarity. Content is well sharpened sharp, as well, so even ordinary things like searching the web and reexamining a report are better than anyone might have expected. It's a presentation deserving of the world's most progressive superior scratch pad.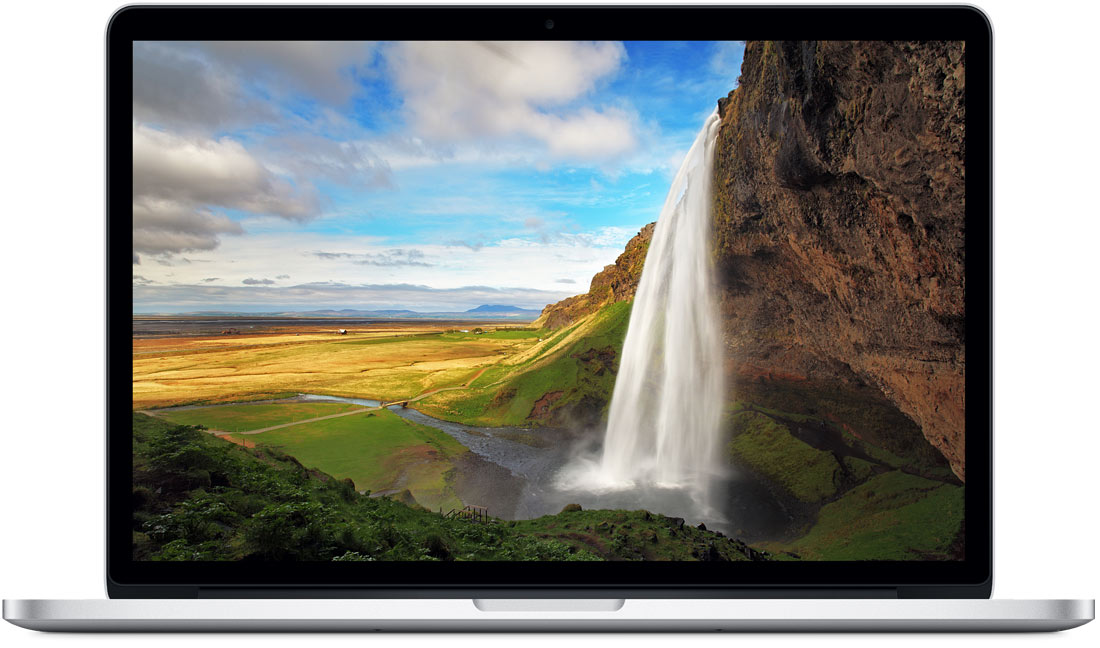 Force touch trackpad.
Presently there's an altogether better approach to collaborate with your Mac. At first glance, the Force Touch trackpad is designed to convey a responsive, uniform snap regardless of where you press. Underneath, power sensors recognize the amount of weight you're applying, adding a radical new measurement to touch. You can utilize a Force snap to empower new capacities, as fast turning upward the meaning of a word or reviewing a record, just by expanding weight on the trackpad. So you don't simply see your substance, you feel it. These propelled abilities work notwithstanding all the natural Multi-Touch motions Mac clients love. You'll be more in contact with your Mac than any other time in recent memory. Without lifting a finger.

High performance technologies.
With effective double center and quad-center Intel processors, more propelled representation, speedier PCIe-based glimmer stockpiling, superfast memory, and Thunderbolt 2, MacBook Pro with Retina show conveys all the execution you need from a journal. So whether you're scanning a site or building one, gushing video or altering it, MacBook Pro flies through the most perplexing (and not all that unpredictable) assignments with inconceivable power and speed.

Thin. Light. Powerful.
The outline of MacBook Pro packs a great deal of force into not a considerable measure of space. Since we trust that elite shouldn't come to the detriment of compactness. What's more, in spite of being so reduced, the new 13-inch and 15-inch MacBook Pro models now convey up to 10 hours and 9 hours of battery life, separately — a hour more than the past models.
Powerful apps included.
Each new Mac accompanies Photos, iMovie, GarageBand, Pages, Numbers, and Keynote. So you can be innovative with your photographs, recordings, music, reports, spreadsheets, and presentations right from the begin. You additionally get awesome applications for email, surfing the web, sending messages, and making FaceTime calls — there's even an application for finding new applications.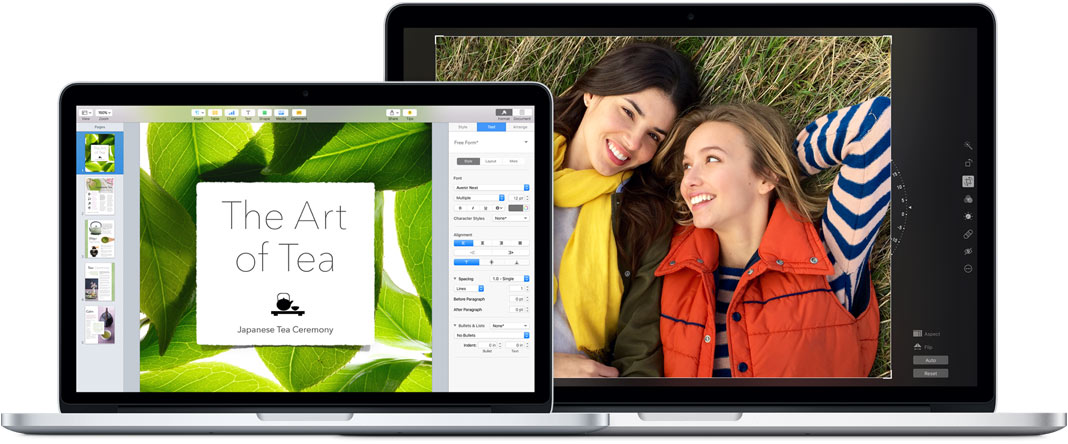 Product Specifications
Audio

Audio :

Stereo speakers, Dual microphones, 3.5 mm headphone jack

Battery and Power

Battery and Power :

Up to 10 hours wireless web, Up to 12 hours iTunes movie playback, Up to 30 days of standby time, Built-in 74.9-watt-hour lithium-polymer battery, 60W MagSafe 2 Power Adapter with cable management system; MagSafe 2 power port, Up to 9 hours wireless web, Up to 9 hours iTunes movie playback, Up to 30 days of standby time, Built-in 99.5-watt-hour lithium-polymer battery, 85W MagSafe 2 Power Adapter with cable management system; MagSafe 2 power port

CAMERA

Camera :

720p FaceTime HD camera

Connections and Expansion

Connections and Expansion-MBP :

MagSafe 2 power port, Two Thunderbolt 2 ports (up to 20 Gbps), Two USB 3 ports (up to 5 Gbps), HDMI port, 3.5 mm headphone jack, SDXC card slot, Apple Thunderbolt to FireWire Adapter (sold separately), Apple Thunderbolt to Gigabit Ethernet Adapter (sold separately)

DISPLAY

Display-MBP :

Retina display: 13.3-inch (diagonal) LED-backlit display with IPS technology; 2560-by-1600 resolution at 227 pixels per inch with support for millions of colors, Retina display: 15.4-inch (diagonal) LED-backlit display with IPS technology; 2880-by-1800 resolution at 220 pixels per inch with support for millions of colors

Screen Size :

13-inch, 15-inch

Electrical and Operating Requirements

Frequency :

50Hz to 60Hz

Line voltage :

100V to 240V AC

Maximum shipping altitude :

35,000 feet

Maximum storage altitude :

15,000 feet

Operating altitude :

tested up to 10,000 feet

Operating temperature :

50° to 95° F (10° to 35° C)

Relative humidity :

0% to 90% noncondensing

Storage temperature :

–13° to 113° F (–25° to 45° C)

Graphics and Video Support

Graphics and Video Support-MBP :

Intel Iris Graphics 6100, Intel Iris Pro Graphics, Intel Iris Pro Graphics AMD Radeon R9 M370X with 2GB of GDDR5 memory and automatic graphics switching

Keyboard and Trackpad

Keyboard and Trackpad :

Full-size backlit keyboard with 78 (U.S.) or 79 (ISO) keys, including 12 function keys and 4 arrow keys (inverted "T" arrangement) with ambient light sensor, Force Touch trackpad for precise cursor control and pressure-sensing capabilities; enables Force clicks, accelerators, pressure-sensitive drawing, and Multi-Touch gestures

MEMORY

Memory-MBP :

16GB of 1600MHz DDR3L onboard memory, 8GB of 1866MHz LPDDR3 onboard memory

Operating System

Operating System :

OS X El Capitan

Processor

Processor :

2.2GHz quad-core Intel Core i7 processor (Turbo Boost up to 3.4GHz) with 6MB shared L3 cache, 2.5GHz 2.5GHz quad-core Intel Core i7 processor (Turbo Boost up to 3.7GHz) with 6MB shared L3 cache, 2.7GHz dual-core Intel Core i5 processor (Turbo Boost up to 3.1GHz) with 3MB shared L3 cache, 2.9GHz dual-core Intel Core i5 processor (Turbo Boost up to 3.3GHz) with 3MB shared L3 cache

Size and Weight

Depth-MBP :

8.62 inches (21.9 cm), 9.73 inches (24.71 cm)

Height-MBP :

0.71 inch (1.8 cm)

Width-MBP :

12.35 inches (31.4 cm), 14.13 inches (35.89 cm)

Storage

Storage :

128GB PCIe-based flash storage, 256GB PCIe-based flash storage, 512GB PCIe-based flash storage

Wireless

Bluetooth :

Bluetooth 4.0 wireless technology

Wi-Fi :

802.11ac Wi‑Fi wireless networking; IEEE 802.11a/b/g/n compatible
Product Reviews





0 Reviews
Write a review