New MacBook MacBook
New Mackbook
Availability: In Stock
---
Description
The extraordinarily thin and light new MacBook highlights a staggering 12-inch Retina show, an overhauled console, and the new Force Touch trackpad. Tags: AppleAir, Macstore, appleservice, applereseller, appleservicecenter, appleauthorisedreseller
Highlights
Colors : Gold, Silver, Space Gray
Processor : 1.1GHz dual-core Intel Core M processor (Turbo Boost up to 2.4GHz) with 4MB shared L3 cache, 1.2GHz dual-core Intel Core M processor (Turbo Boost up to 2.6GHz) with 4MB shared L3 cache
Storage : 256GB PCIe-based onboard flash storage, 512GB PCIe-based onboard flash storage
Product Features
MacBook
Light. Years ahead

A full-size keyboard.
In a fraction of the space
We trust that an agreeable, full-estimate console is fundamental for an awesome scratch pad experience. In any case, to fit one into the richly thin new MacBook, we needed to totally reexamine how a console is built and developed. To make the new console, we updated every key and its fundamental system — making the entire console much more slender, as well as taking into account more agreeable, exact, and responsive writing that just feels right.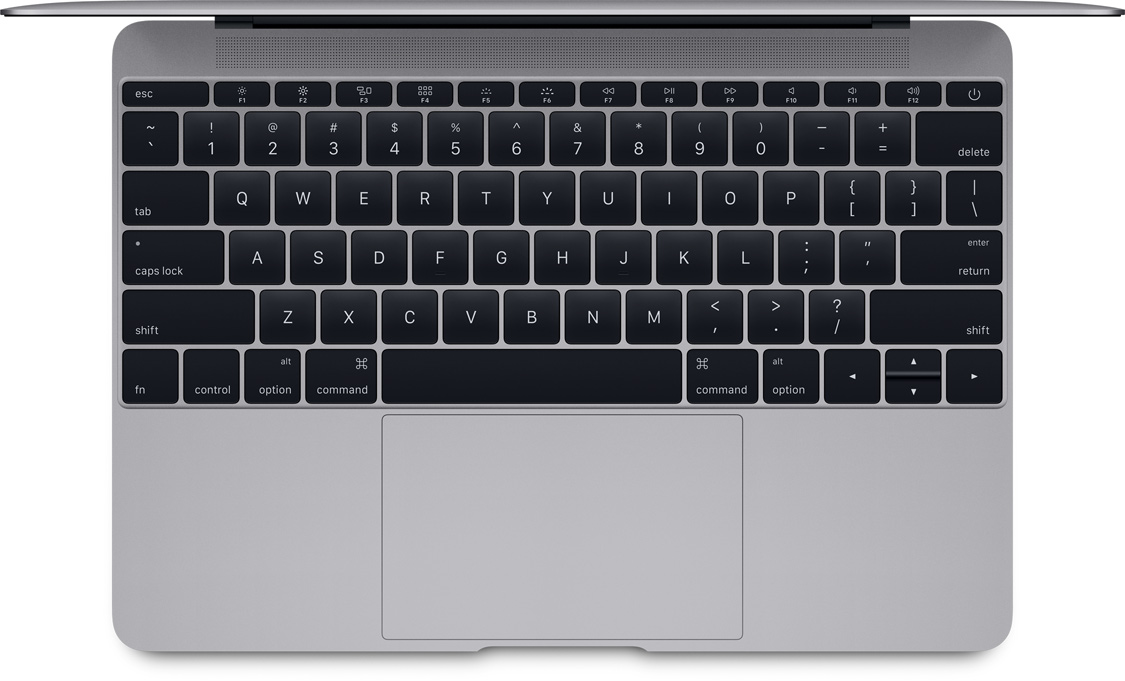 Quietly astonishing.
The new MacBook has been designed from the beginning for quiet, effective execution. It begins with a fifth-era Intel Core M processor that keeps running on only 5 watts of force, made significantly more effective by enhancements all through OS X. Together the processor and OS X taste so little vitality that the framework produces next to no warmth, so no fan is required to cool the PC. That implies when your MacBook is working, you won't hear a thing. Also, the rationale board on which the processor sits has been totally overhauled to pack all the capacity you expect in a Mac into as meager space as could reasonably be expected.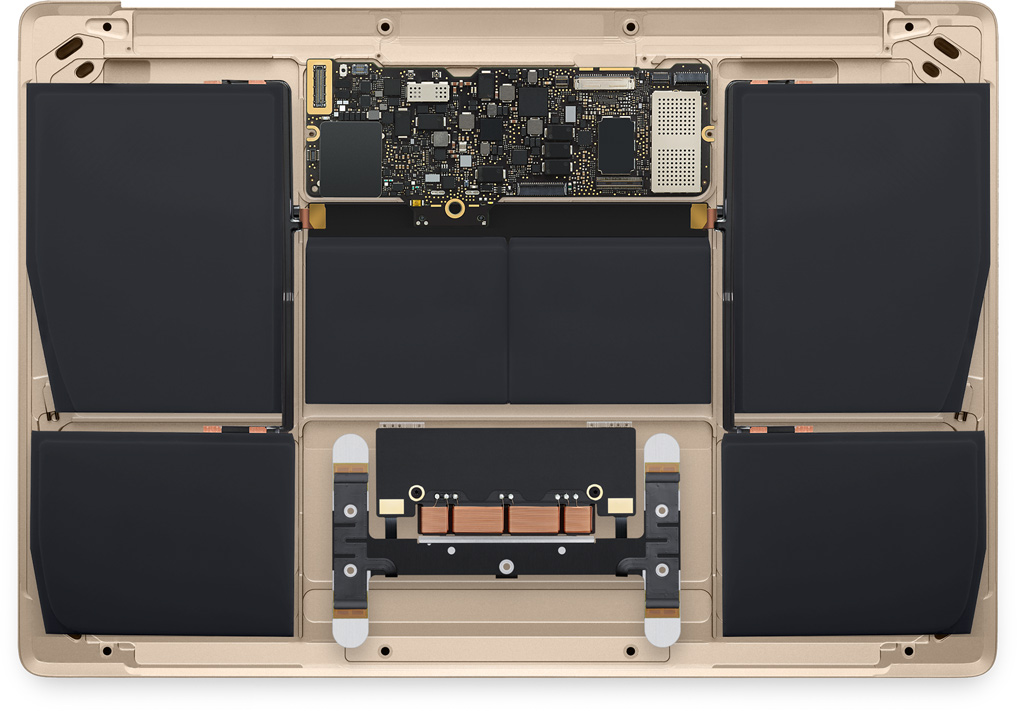 Built-in Apps.
Each Mac accompanies applications for imagination and applications for profitability. It additionally accompanies an accumulation of extraordinary applications for things you do each day, as surfing the web, sending letters and messages, and arranging your timetable. It even accompanies an application for finding new applications. Your Mac is more than full‑featured,it's completely stacked.

Retina re-envisioned.
The minute you open the new MacBook, its ravishing 12‑inch Retina show with edge-to-edge glass brings everything into core interest. Each photograph jumps off the screen in rich, dynamic subtle element. More than 3 million pixels render every letter with precious stone clarity. What's more, everything becomes exposed on the most slender, most vitality effective Retina show ever on a Mac, fastidiously sharpened to convey an intense visual ordeal inside an outlandishly negligible outline.

OS X
OS X is the working framework that forces all that you do on a Mac. With OS X El Capitan, it's easy to do astounding things and delightful to do all the ordinary things. Furthermore, it works flawlessly with your applications and iOS gadgets.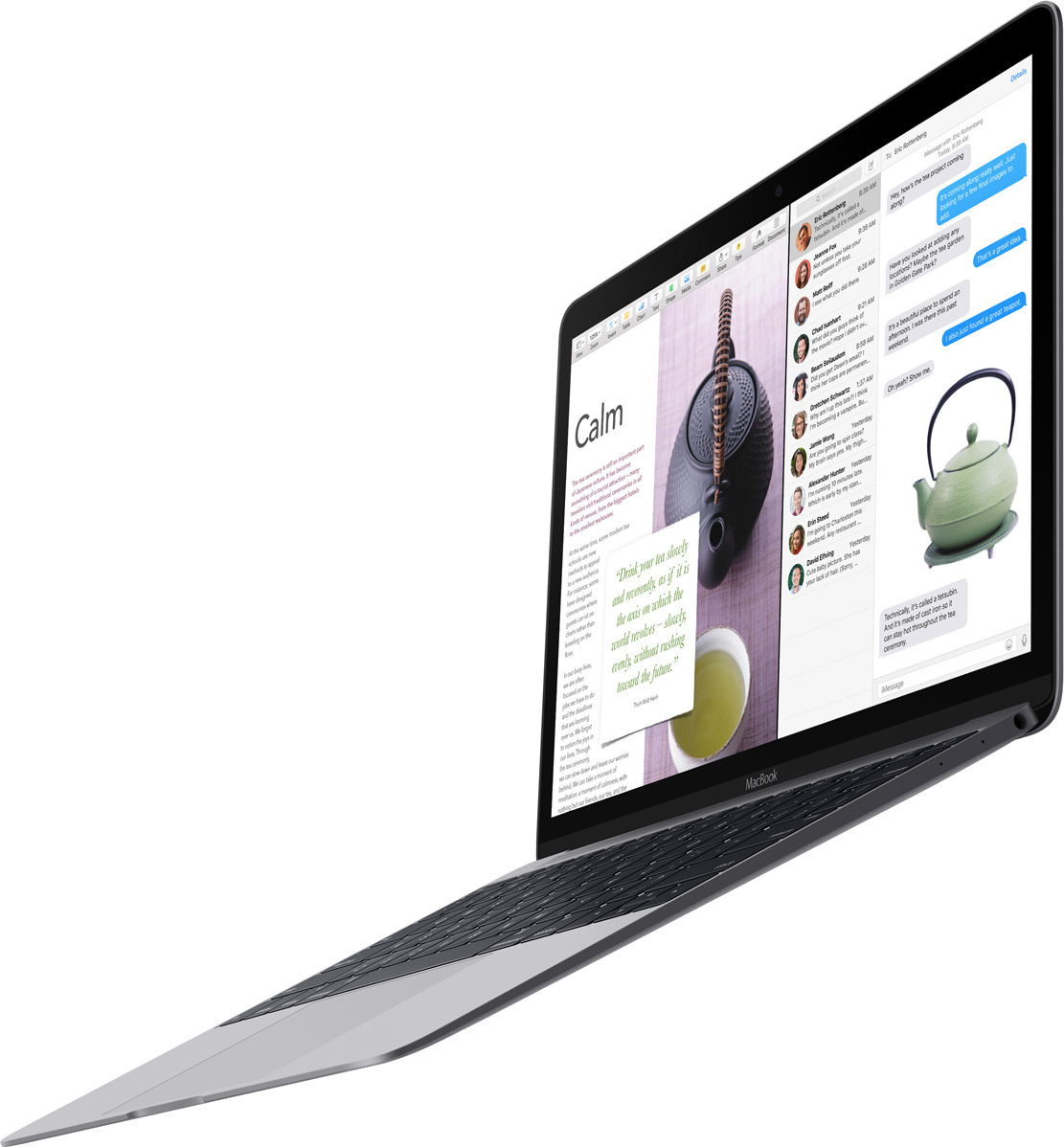 Product Specifications
Audio

Audio :

Stereo speakers, Dual microphones, 3.5 mm headphone jack

CAMERA

Camera :

480p FaceTime camera

Charging and Expansion

Charging and Expansion :

USB-C port with support for: Charging, USB 3.1 Gen 1 (up to 5 Gbps), Native DisplayPort 1.2 video output, VGA output using USB-C VGA Multiport Adapter (sold separately), HDMI video output using USB-C Digital AV Multiport Adapter (sold separately)

DISPLAY

Display :

Retina display 12-inch (diagonal) LED-backlit display with IPS technology, 2304-by-1440 resolution at 226 pixels per inch with support for millions of colors, 16:10 aspect ratio

Electrical and Operating Requirements

Frequency :

Frequency: 50Hz to 60Hz

Line voltage :

Line voltage: 100V–240V AC

Maximum shipping altitude :

Maximum shipping altitude: 35,000 feet

Maximum storage altitude :

Maximum storage altitude: 15,000 feet

Operating altitude :

Operating altitude: tested up to 10,000 feet

Operating temperature :

Operating temperature: 50° to 95° F (10° to 35° C)

Relative humidity :

Relative humidity: 0% to 90% noncondensing

Storage temperature :

Storage temperature: -13° to 113° F (-25° to 45° C)

Finish

Colors :

Gold, Silver, Space Gray

Graphics and Video Support

Graphics and Video Support :

Intel HD Graphics 5300, Dual display and video mirroring: Simultaneously supports full native resolution on the built-in display and up to 3840 by 2160 pixels on an external display, both at millions of colors

Keyboard and Trackpad

Keyboard and Trackpad :

Full-size keyboard with 78 (U.S.) or 79 (ISO) individual LED backlit keys, including 12 function keys and 4 arrow keys with ambient light sensor, Force Touch trackpad for precise cursor control and pressure-sensing capabilities; enables Force clicks, accelerators, pressure-sensitive drawing, and Multi-Touch gestures

MEMORY

Memory :

8GB of 1600MHz LPDDR3 onboard memory

Operating System

Operating System :

OS X El Capitan

Processor

Processor :

1.1GHz dual-core Intel Core M processor (Turbo Boost up to 2.4GHz) with 4MB shared L3 cache, 1.2GHz dual-core Intel Core M processor (Turbo Boost up to 2.6GHz) with 4MB shared L3 cache

Size and Weight

Depth :

7.74 inches (19.65 cm)

Height :

0.14–0.52 inch (0.35–1.31 cm)

Weight :

2.03 pounds (0.92 kg

Width :

11.04 inches (28.05 cm)

Storage

Storage :

256GB PCIe-based onboard flash storage, 512GB PCIe-based onboard flash storage

Wireless

Bluetooth :

Bluetooth 4.0 wireless technology

Wi-Fi :

802.11ac Wi-Fi wireless networking; IEEE 802.11a/b/g/n compatible
Product Reviews





1 Reviews
Write a review
MdBvobVycOCHNgGd
Posted By uvlbkch - July 11, 2016
ljvvD6 yljyactrtffq, [url=http://opikxslsnrke.com/]opikxslsnrke[/url], [link=http://xxhtomtipnhw.com/]xxhtomtipnhw[/link], http://mxxbvzfrucll.com/